Jenny LeClue: Detectivu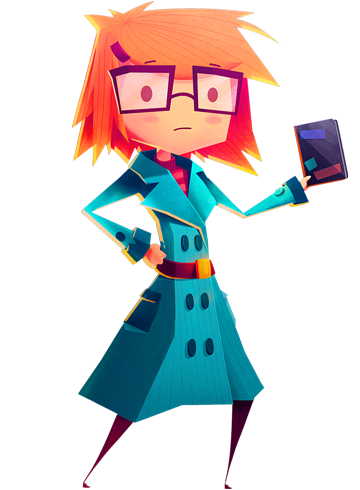 Jenny LeClue: Detectivu is a mystery puzzle game. It was created by the company Mografi.
Plot:




"Author Arthur K. Finklestein is the creator of the Jenny LeClue series of books, a classic children's sleuth series whose sales are dwindling as readers begin to find the stories trite and boring. His publisher demands a darker, grittier Jenny LeClue book or else the series will be canceled, so Finklestein reluctantly responds by giving Jenny her biggest case yet: the murder of the beloved dean of local Gumboldt College, with her forensic science professor mother as the prime suspect. Within the narrative, Jenny must clear her mom's name and repair her fractured relationship with the dean's son, while Finklestein struggles to commit to putting his beloved Jenny and her town of Arthurton through the wringer in order to keep the series alive."


(Source)

[

SPOILERS!!!

]
So, as for actually gameplay, you play as a girl named Jenny LeClue who lives in a small town named Arthurton. The game starts with a tutorial in her mother's classroom at Gumboldt College, where you inspect Jenny for clues. Jenny's mother, Julie LeClue, gives Jenny a journal and reminds her that Jenny will be staying at her cousin's house for the night. Jenny is reluctant. Julie explains that she must have a meeting with the Dean, so Jenny is to go back home. Jenny eventually leaves the classroom and walks along the sidewalk to Go meet her friend Kenny and to meet a client who hired her for her detective skills. She runs into the Dean along the way. Dean Strausberry is retiring soon, so the campus is littered with signs and banners wishing the Dean a good retirement. The Dean stops her and comically asks her to guess what he had for breakfast. Jenny inspects the Dean for clues, and eventually concludes that he had a jelly doughnut. She explains she is going to meet Kenny, the Dean's son, at the lake, and the Dean exclaims that he is going to meet her mother in the Library. Jenny keeps walking and walks past a telephone booth, which suddenly starts ringing. Jenny answers it, and it is her adult friend, CJ. CJ is the town weirdo, and constantly raves about Aliens in Arthurton. He gave Jenny a card saying, "Sorry about your Dad." Jenny's dad had passed away some years ago. She eventually leaves the campus and reaches the lake.

Jenny is walking and then suddenly, a wrench falls out of nowhere and almost hits her. Jenny looks up to see a repairman working on the power lines. Power outs have become so frequent that the Arthurton Police Department had to institute a 9:00 pm curfew. Jenny keeps walking and finds Kenny. He is still on his job making coffee, so Jenny leaves to go meet with her client. The client explains that she lost her glasses, and after some inspection Jenny deduces that they are on her head. Jenny goes to meet with Kenny and sits on the pier with him. They talk and throw rocks at the "no swimming" sign.

Jenny heads to the library to find her mother, and finds that no one is even there. She walks through the library and uses the ladders to progress. She comes upon a mess of carts and the railing on the balcony destroyed. Below, she saw something under a curtain that has been ripped from the wall. Is that a body..? Jenny heads down and reveals that the body is the body of the Dean. She inspects him, and deduces that he has been murdered! Based on the time of his broken watch, he was attacked only a couple of minutes ago. And since Jenny hadn't seen anyone come out of the library… the murderer was still in the library! Suddenly, a window opened and a figure leaped out. The murderer was getting away! Jenny quickly climbed the curtain and unsteadily balanced on the window. The window suddenly gave way, and Jenny fell all the way down. She wasn't hurt, but before she blacked out she perceived one last thing. Her mother ran to her, and said "Oh Jenny. What have you done?"

Jenny has a nightmare. It's pretty creepy.

Jenny wakes up in a pink bed covered with pink stuffed animals with pink wallpaper with terrible music playing. Jenny quickly turned off the music, and figured she was at her cousin, Susie's, house. She heard hushed whispers in the hallway. She peered through the keyhole, and saw Mrs. Glatz, Susie's mom, and her grandfather, the Police Chief. They talked about Jenny a bit and Mrs. Glatz gave Mr. LeClue some official police documents. "Why does Mrs. Glatz have official police documents?" Jenny wondered. Jenny retreated back into the room and explored it. [I will finish this plot thing later. TBC.]


Discuss it here!
Please keep it positive!
Things to discuss:
Potential theories about the sequel

Thoughts about the game

Favorite part of the plot/character/puzzle and why