Hi there, and welcome to Scratch!
So maybe you heard of Scratch from a friend, a family member, or were just surfing the internet, but either way you just created a new Scratch account. You look around the website and there's so much to do! There's loads of games, different forums, and all of these profiles. It's almost overwhelming! So you have the question in your mind, "Where do I start?"
1. Confirm Your Email
When you created your Scratch account, you were asked for an email. This was because you have to confirm your email address in order to use Scratch. That's why you probably see this:
To "Confirm Your Email," simply exit Scratch for a moment and go onto your email (or if you put in your parent's email, you have to get them to do it). They will receive a message looking like the one below. The subject of the email will be "Please confirm the email address for USERNAME on Scratch!"
Once you're in the email, click on the blue link and it will redirect you to a page saying you're all set to explore.
TIP: Make sure to always check your messages when there is a new one! To find your messages click on the envelope located on the top blue bar. You'll know if there is a message or not because there will be an orange circle with the number of messages you have. If you have zero, it will not show the orange circle.
2. Check Out Your Profile!
Now that you have your email confirmed, you should check out your profile. This is your page where users can find all your shared projects, favorite projects (learn more below), all of the studios you follow and curate (learn more below), and the Scratchers you follow and the ones that follow you. Additionally, there is a comments page where users can drop by to say hi or to let you know something. You always have the option though to turn these off if you find you don't want Scratcher's commenting on your profile.
At the top of your profile, you'll find your username in large letters, when you joined (if you want to see the exact date you joined, put your cursor over that text), the words "New Scratcher," and the country you live in. Below that, there will be two boxes: "About Me," and "What I'm Working On." Use these boxes to talk about yourself, but be sure not to include any personal information (your last name, where you live, email addresses, etc.). Also, it will show your profile picture, which as default is a Scratch Cat, but if you want to change it, run your cursor over it and click the button change that appears.
Why does it say "New Scratcher?"
The status "New Scratcher" is given to Scratchers who just joined Scratch. This is given to all Scratchers who joined to prevent spam and make sure they are aware of all of Scratch's rules. This means that you do have a few restrictions as a "New Scratcher."
Restrictions




Can't use cloud data*

Have to wait longer between posts

Can't edit posts after leaving the page

Can't post links to any non-Scratch site on the forums

Have to wait 30 seconds between comments

Can't post images

120 second wait between forum posts

This was edited by me
*Cloud data is used mainly for world high scores in games. For example, if you got a score of 500 on a game a Scratcher created, and the world highest was original 425, it would change to 500, and everyone who viewed the project would be able to see that, whereas normal scores can only be viewed by you.
Of course, you won't stay a New Scratcher forever. If you want to become a Scratcher you have to:
At least two shared projects

Several comments

Love and favorite some projects

Be active

Scratch account must be a minimum of two weeks old

Some advantages of a Scratcher include:
They have the 60 second rule; this means they have to wait 60 seconds (1 minute) between posts.

They cannot post the same comment three times in a row.

They can freely edit their own posts.

They can close their own topics IF it has been up for more than 24 hours.

They can use Cloud Data.

3. Create Your First Project
By clicking the "Create" button on the top blue bar, you are ready to create your first project! Of course, if you have no experience with coding, your first project won't be all amazing like you would wish it was, but practice makes better!
When you enter the project editor, you will be pretty confused, you see "Sprites," "Backdrops," and all of these funky shaped blocks. Luckily, though, there are many tools to help you make your first project.
Sprite-

A sprite is basically a character of some kind. It could be the character that you move around, an enemy that moves on its own and tries to attack you, or anything else. It is normally anything but something used as a background (a sprite can also be a button, list of moving words, you name it!).


Backdrop-

The backdrop is what the background of your project will be. Maybe it's a picture of the ocean that you took a picture of, or you just want to draw something. The backdrop doesn't move.
Now, if you go and explore the blocks you'll see quite a bit of them:
move () steps
when backdrop switches to [ v]
<mouse down?>
(pick random () to (10))
define 
Those are some examples. Because there are so many and they look so different, they look impossible to use. So start off with something simple. To use a block, drag it onto the gray area.
The
when green flag clicked
block is used when you want something to happen right away (to start a project, click the green flag. To stop one, click the stop sign). Now, try using a block in the "Motions" section and connect it to the green flag block. Then try it out!
Example:





when green flag clicked
move (15) steps
turn cw (90) degrees
Simple Overview of Each Category of Blocks





Motion:

These blocks are used for the movement of your sprites.


Looks:

These blocks are used for the appearance of your sprites, such as its costume or size.


Sound:

These blocks are used to play and control sounds you have put in your project.


Events:

These blocks are code starters used to signal an action when a certain event takes place.


Control:

These blocks delay an action or signal an action when a certain even takes place.


Sensing:

These blocks are mostly* used with a "Control" or "Events" block, and are used for when you would like a code to be played after something is sensed, like the press of a key, or a sprite touches a color.


Operators:

These blocks are also mostly* used with a "Control" or "Events" block, and are used for mathematical situations and when you would like a code to be read under more than one situation (a sprite touches the color red

or

the color blue).


*Please Note: As you learn more and more about the Scratch editor, you will find that blocks can be used for more than one purpose. For example, Sensing and Operators blocks can be used for more than just the situations described above.




Variables:

Variables are used when you would like something to have a value that can increase or decrease over time (such as a game score or life count).

If you have any questions about the purpose of each category of blocks, feel free to ask! You can also learn more about coding and blocks by visiting some of these.
-
Scripting Tutorials
-
Blocks Information
-
More about Scratch Blocks
If you want to start making a real project right away, click on the "Tutorials: button located on the blue bar:
This page is a little section that gives simple tutorials on how to make specific projects. It is great for beginners as it helps you get to know how each block works and what it does.

Once you have finished with your project, you should share it! Click the "See project page" button, and write in the two boxes shown on the front of the project: "Instructions," and "Notes and Credits." Also, don't forget to add a name! Click the button "Share" and wait for people to check it out. Scratchers will be able to love and favorite it, as well as give you praise and polish in the comments section (like always, you can disable comments). Additionally, they can remix it (this means they can make a copy of it and make changes to it). When a user remixes a project, it never changes yours.
4. Check Out Some Other Projects!
Now that you have created your first project, made your profile awesome and of course, created your Scratch account, it's time to check out some projects other Scratchers made.
One way to find other projects is to click the "Explore" button located on the top blue bar, and you'll be redirected to a page that looks like this:
From here, you can click on the buttons provided and take a look at projects. If you find one that interests you, click on it! You will be brought to the project page and you can play it from there. After you have finished playing the game, love and favorite it if you want! If you want to make changes to it, you can remix it! To remix a project, click on the button "See Inside" and make the changes there. Be sure to check out the code they used, as it may help you understand more on each block's purpose. To remix it, click the remix button once you have finished, and you can add to the boxes just like you did with the project you created from Scratch. Be sure though to give credit to the person who made the project originally by writing "Credit to @(WRITE USERNAME HERE) for original project.
5. Make Your Way Into The Scratch Community
Now it's ready to get you noticed, and for you to start getting followers. Start off by checking out a few Scratchers. On the Scratch home page, you can check out the users of featured projects, or just randomly find Scratchers by checking out project comments. When you check out a users profile, you should read their description and check out some of their projects. If you find that you like this Scratcher, you can follow him/her so you can receive updates on them. Additionally, it will make them feel good as they know that Scratchers like you are enjoying their work. Although, you can follow as many people as you want, if you try and follow too many at once a message will be displayed saying you need to wait longer between follows. On user's profile, it is good to just say a simple "Hi" in their comments, so they know that you dropped by. When you follow a Scratcher, they normally check out you back, and if they like your work then they will follow you as well.
Another way to get noticed is to go check out the forums. By scrolling to the bottom of any Scratch page and in the footer, under "Community," click on "Discussion Forums, " you can view the list of forums Scratch has. Forums are not used for chatting, but for discussing a variety of topics. You should click on the "New Scratcher" forum and click on the button "New Topic." Then you can write about how you just joined Scratch, and fellow Scratchers will come and greet you. To find out more about the forums, see
this
topic.
While you're in the forums, if you go back to the forum's main page, scroll all the way down until you see the words "Change your signature." Click on that and write in the box provided. Once you save your "signature" what you put in there will appear at the bottom of all your posts!
6. Scratch On!
In Scratch, there is so much to discover! Scratch is not limited just to programming. There are the forums, all of the Scratchers, and it feels great to be in the community. Have a great time in Scratch! It's loads of fun!
Some other things to discover…
Studios-
Studios are places that you can add lots of projects to! There is a place to write a description of the studio, and after creating one you can invite other Scratcher's to help out with it. If they accept your invitation, they become a curator, which can add projects (if the option of any Scratch adding projects is turned off), remove them, and remove other curators. If you promote them to be a manager (this is what you are), they can edit the description, the title of the studio, the picture for the studio, and remove anybody (except the owner of the studio). Also, they can do anything a curator can do. To create a studio, click on the folder with the S on it (my stuff page) and click on the "New Studio" button.
Step 1:
Step 2:
Alternate Accounts-
If you want, you can always go and create another account! It will not add any of your other projects to it, but you can use it for other purposes! Maybe you have a main account, and then you have one specifically for the forums.
Using Images in the Forums-
Using images in the forums is great! It allows you to make your posts look better and be more creative. To add an image into your post, you will need to download it to your computer, and upload it to an image hosting site. I personally recommend
CubeUpload
. To use this site, you'll have to create an account. To upload you images, press the "Select Images" button and add your images.
After your images have been uploaded, you can add them to your posts by copying the top link of the photo you want to use.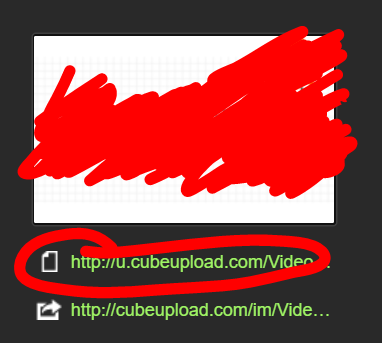 Then, click on the image icon in your post and paste the link into the box that comes up. This will create an image when your save your post!


Thank you for reading this and have fun on Scratch!