I was recently looking at some projects, which were word editors, with the best word editor I found using the pen to make the letters, which doesn't look too nice. I thought about using clones for the letters but this would be too restricting and slow to deal with. So why not add a new block called the tell block(Name can be changed). It would display the text like how the say or think block does but with more flexibility. It wouldn't have a tail on it or be linked to a specific sprite. It would then have additional inputs for its position, width, and height while being displayed on the screen. This would eliminate the use of clones or pen to display text on screen which would just be easier for everyone.
Edit(2/12/19): If the height and width of the blocks are not big enough then the text would just overflow into space that can't be seen. This overflow could then be scrolled to see or automatically scroll as more text is added. The overflow would also happen in the x-axis or y-axis but may be too many inputs by then for this to be simple. Scratch needs a better dedicated text system, which could be implemented through extensions if thought too advance for new scratches, to help limit the slow and restrictive process with the current ways to display text dynamically.
Original Blocks:
tell [] at x() y() width() height() ::looks

tell [] for (2) secs at x() y() width() height() ::looks
(Instead of tell it could instead say textbox)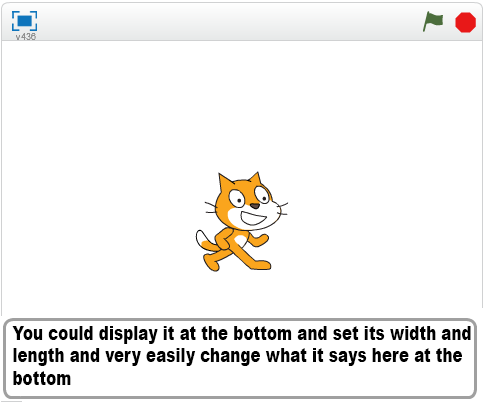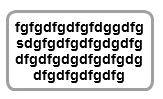 -Multinia-'s idea
:
set text style [sans-serif v] :: pen
set text size (12) pt :: pen
set text color [#ABCDEF] :: pen
set text alignment [left v] :: pen
draw text [hello world] at x: () y: () :: pen
These blocks would work within the
pen extension
a new extension which could be called the text extension. The alignment block is still a ambiguous though with how it would function. @imfh idea is to keep the rendering on an svg layer so no pixelation would occur with the text which would be a must if projects are to run across multiple devices and screens.
Supporters